Hope everyone had a beautiful Christmas, enjoying the time with family and friends and creating great new memories!
Since our cards are going out VERY late this year, here's a little sneaky peeky for everyone so you can feel the love.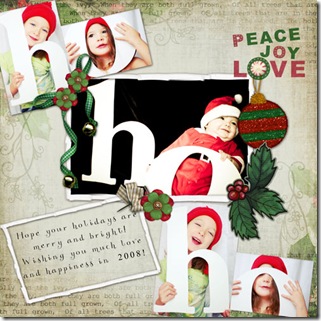 As you can tell by the bottom right picture of Karissa, this photo shoot was NOT one of their more enjoyable times of the day. At least i got three shots in to complete the phrase! Kaylen is dressed here in the aforementioned angry elf outfit that ben tried to hide. Well, ok I actually found it in the laundry basket…but still. He knows.
So life is still in that weird holiday time limbo. We have lots of family coming into town still this week, which is a total blast! But i just feel like I can't see EVERYONE enough! Plus, you know, real life just doesn't slow down for the holidays! I still have some work to do, still have photo clients wanting to get some sessions booked, still have MASSIVE spring session planning to do, building a new website and overhauling our pricing programs…its all good stuff but I just do'nt have the energy most days to keep up with my life!
Then your thoughts kind of automatically turn at this year towards "THE CHANGES". Not resolutions, as we are being told that resolutions are too easy to break, rather, just view them as positive changes you are going to instill in your life. Luckily for me, I don't actually hate myself when I break resolutions OR do not institute change. I try it just the same. there are actually a few things i would like to start working on, working towards, goals to put in place, etc. But you know, life will still go on if I end up breaking my resolve one week into the new year. (Maybe this is part of why the changes never stick….hmmm. Thoughts to ponder…)
OH! Other news.
I did it. I got my hair lightened and put pink in it. I was ready for a change. And while this new look is JUST this side of trailer ghetto, I like it.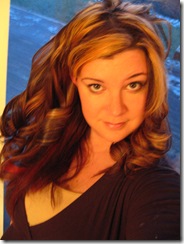 It was a good change. I wish the pink was a little more bold, but, then again, I don't want to look like I'm trying too hard. (for what I don't know, I just know I recognize it in other people. That "trying too hard" look.)
Ok so the lighting on this pic is REALLY orange…but if you look at the bottom of the curls, you'll see the pink streaks. Its just one whole layer of hair that got turned bright pink, right in the middle of my head. Its totally punk.
My mom wanted to know when I thought I might grow up. I told her i hoped never. Seriously. who wants to GROW UP?
Well, we are about to start round two of after christmas sale shopping so I guess I should hit save and publish.
Merry Christmas to everyone and we'll be back in two and two.
Peace-
T