If you are a regular reader here at Terra Talking – you've seen my posts/mentions of a magical pill I've found to get my kids to sleep at night! And I am SO excited to be able to announce a way that YOU can get some magic pills to try for yourself (and your kids too if you feel like sharing)! The OZzzz Sleep Aid blog has some awesome articles about the relationship between poor sleep and a multitude of other health-related issues, but sometimes in the thick of dealing with kids who cannot or will not fall asleep on their own at night – you just want SOMETHING to help them get to sleep already!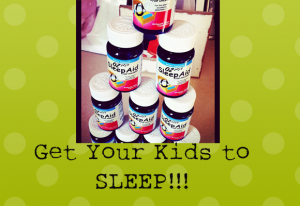 OZzzz's aren't really full of magic. (Although I personally feel it should be listed as a key ingredient because of how well they work!) They are a scientific blend of melatonin (a naturally occurring brain chemical that helps slow our minds down enough to enter restful sleep), and chamomile (an herbal supplement often made into a tea that helps calm us during times of hectic activity).  Many kiddos that I know through my moms group of special needs children use melatonin as a means of helping reset the sometimes crazy brain activity that can be a part of a multitude of disorders. It has been proven through many years of research to be a safe and effective natural sleep aid. Coupled with the chamomile, it is just the right blend to help active kiddos calm down at night, and get in bed.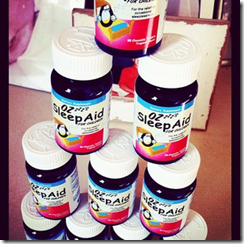 I kid you not – the VERY first pill we gave to Kaylen (nicknamed Hurricane Kaylen around these parts) – she was CONKED out cold in the middle of the day within ten minutes. THAT NEVER HAPPENS. We were shocked. And hooked. Which is why I now order in bulk. Because regardless of what the label says – I promise you these pills are magic.
And tomorrow night – you have the opportunity to come have a chat with me and the amazing mom who started it all, Darcy of OZzzz's Sleep Aid for Children. We will be talking about sleep issues in kids, how to address some of those concerns, and answering your questions about this awesome product. you will have the opportunity to win some fun prizes, including a free bottle of the OZzzz, and we have an AWESOME grand prize for the end of the party – a "Sleep Is Fun" gift pack that includes a brand new Pillow Pet!!! (my kids are addicted to those things and are seriously jealous!)
Never been to a twitter party? Ohhhh you're missing out! In a nutshell – it is a bunch of people tweeting back and forth with each other in a "conversation". You receive these messages because you are all using the same hashtag – in our case its the "#SleepOZzzz4Kids". The host(s) will ask a question and the attendees will all reply to that question – sometimes with an answer based on the product, sometimes with just personal experience! It is all designed to foster community, awareness of a brand or a product, and make new friends. It's super fast, super fun, and I super hope you will all be there! (even if you aren't a huge twitter user – it can still be lots of fun! Give it a try – for me!)
Here's the 411 on the party: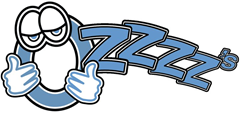 Tuesday Night, February 21 at 7pm Central!
Follow hashtag #SleepOZzzz4Kids
Follow me on twitter:  @TerraTalking
Follow Darcy/OZzzz's Sleep Aid on twitter: @OZzzzsSleepAid
Keep up with the latest info on our facebook pages:
Terra Talking The Blog – facebook fan page
OZzzz's Sleep Aid – facebook fan page
I would strongly encourage you to go poke around the OZzzz website a little bit – "SOME" of the questions for prizes might come from the info contained therein. (cough cough – About OZzzz and FAQ's – cough cough!)
You can follow along with the party on our custom TweetGrid or just plug the hashtag into your favorite Twitter Client.
You can win any of the smaller prizes just by showing up and being a part of the party – but if you want to win the GRAND PRIZE – you gotta RSVP here!
Just enter your name and your twitter handle/name into the Linky widget below (type www.twitter.com/"yourtwittername", or just put @"yourname" in the URL option).
Let me know if you have any questions! Hope to see a lot of you there!!! Tomorrow night – don't forget!
Terra