Ok did anyone else ever watch the movie "UHF" with weird al yankovic? It was absolutely one of the most ridiculous things i have ever in my life seen, and yet, i laughed hysterically at it. A young Kramer (of Seinfeld fame) plays a crazy janitor who comes up with stupid shows for a failing TV station all PeeWee herman style and blah blah blah the day is saved. ANYWAYS – on one of his shows he gets all excited about the toy inside a box of cereal and thus the phrase "Free toy Inside!" has made its way into my personal vernacular (as well as that of my crazy extended family (who I believe are the ONLY humans on earth who actually think this is a funny movie).
So – there you have my long-winded explanation on why I chose my post title.
That and the fact that, for once, there is actually a free toy inside today's post. Well not a toy, but something fun nonetheless. Free Postcards!
Uprinting, one of the sponsors of terra talking, is hosting a giveaway for me to extend to all of you.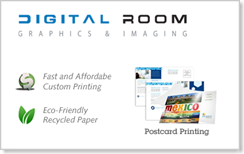 Now I think these are very cool and have a great variety of uses – personalized  custom postcards and custom greeting cards! My sister uses custom postcards to do all of her invites and thank you cards on for birthdays and BBQ parties and the like. It is a very cute way to create something that is personalized with YOUR colors and pictures, and not just a mass produced template.
I bet if we sat here long enough we could come up with a GREAT list of ways that you could use your postcards – but i have a better way – leave me a comment of how YOU could or would use the postcards – got a birthday party coming up? want to announce a new address? Want to just have a stash of "thinking about you" cards on hand to send to friends via snail mail to help keep the Post Office afloat? I'm giving away two sets of 200 Postcards – one set to the comment that makes me laugh the hardest and one set to a random number generated according to the number of comments we get. So ready set comment! (I promise it's not that hard).
Fine print to the giveaway – you will have to pay shipping of about $10 (I think), and the coupon code will be sent directly to you to be used at Uprinting's store.
I am still not sure how I am going to use mine. I am thinking of having the kids hold up signs with words on them (like Thank You or something like that and then taking a picture of it. The possibilities are endless. i can't wait to get some more ideas from you all though. So PLEASE take a minute to comment. I know there are so many of you who read this blog – and so many of you take the time to email me, which I appreciate – but i want to see how many comments we can get here – and usually something free will spur that commenting action. So just do it! Please! I promise you will not get rabies from pressing the comment button and typing a comment.
Annnnnddd……
what else. Second day of school – still trying to get into a good rhythm and shake off the last vistages of summer. (It occurs to me that vistages might not be a word but it sounds good doesn't it? I think the real word is vestiges, yep, no red squiggles there. Vestiges it is then.) Kendall had another rough nite last nite, working from 7 until midnite to get her first BM in 6 days out. I feel like a midwife at these times, trying to help birth this poop from within. It's so sad to see her. I actually videotaped last nite (yeah who thought THAT was on the mommy to-do list when you signed up for this job???) with the hopes that the GI doc can see that its not like its just constipation we're dealing with here. It's as if her entire colon has shut down, and its just causing lots more spasming up the line, but nothing is moving anywhere. Very frustrating, and not a fun way to spend a nite.
Tomorrow is her 9 month well baby check at Dr. natalie's, and then on to her hearing test. hopefully we get great results and get them back right away. It seems like its a crazy busy week – but I guess this is kind of every week from here on out – having to fit school schedules in with all the therapy and doctors visits and tests and work and playtime and grocery shopping.
So that's that. Ok ready set go comment. Tell me all about your postcard whims and wishes! Can't wait to see what some of you come up with!
terra