No not that kind – the kind where you stand in line in the freezing cold for a good deal or two. (Although my sister and I DO have that kind of crazy fun every Black Friday!) I mean, the kind where my girls and I get the Christmas tree stuff out and put it all up to surprise daddy before he gets home from work!
And we did it!
After my all-nighter in the cold (which was super disappointing this year because there really wasn't anything that was THAT great of a deal so all of that and I'm still mostly empty-handed in the shopping department!), Kealey Grace rallied the other girls to let me sleep in a little bit, brought up all the heavy and large bins full of tree stuff, and in true "mini-Ben" fashion, had the tree parts all laid out according to color (how our tree is set up).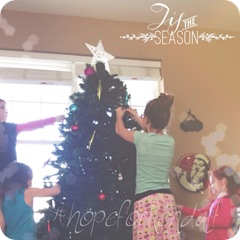 It was so fun to crank the Christmas music up loud, sing at the top of our lungs, put the tree together, smother it in lights and ornaments, and sit with our hot chocolate and admire our handiwork three hours later! It is a weird and new thing to have actual HELPERS at this time instead of trying to corral small bodies and take 39 diaper/feeding breaks. Times like this it hits me that I don't have BABIES anymore, I have big grown up girls! When did this happen? When did I stop having to shop in the baby part of Target for clothes and instead try to find all matching outfits in the little girls area? When did they stop liking matching outfits? (Ok they haven't. Or at least I refuse to believe this one yet!)
It is hitting me this year, this Christmas season, that our lives are changing. We are entering new territory – as parents, as kids, as a family. On the one hand I embrace it – I mean – I didn't have to bring all those boxes up by myself, right? Holla!!! On the other, I'm not ready for this! i don't have a baby to rock to sleep while patting it's little diapered tushy, I don't have a bunch of plastic toys created in China that someone HAS to have this year, I don't have babies I have big girls! (Basically this post and it's sentiments will probably be on steady repeat for the next fifteen years…)
So for now, we are soaking up every minute of this holiday season. Putting up the tree, trying to find the perfect wreath for the front door (this is seriously stressing me out, but i'll put that in another post), trying to clear out some of my usual clutter so I can make it look more "christmasy" in the few areas of this house that I can actually decorate. Our elf "Snowflake" has begun to make her seasonal appearances, to observe on the behaviors of four certain little girls and report her findings back to Santa. We listen to Christmas music in the car, and we are anxiously awaiting the first REAL snowfall of the season to make it seem more Christmasy. Plans with our awesome extended family are starting to be made and it is most definitely beginning to look (or at least feel) a lot like Christmas around here! I love this. The anticipation of this entire season – never knowing exactly how it will turn out or what magic will happen when you least expect it.
And that's what I want to focus on this coming month – the magic of Christmas, of the season, of the reason for the season, of just being together. I hope you'll come along with us on this journey. I want to post more pictures of the "stuff" of what this season means to me and our family. (Again, i'm pretty sure I say this every year and it fizzles out by December 8th or so, but we will see. i've done better with this NaBloPoMo than I have in years past so…there's always hope???)
So that's our fun for today. Lots of togetherness. Admiring my beautiful baby girls who are not babies anymore. Making memories, laughing together, singing loud for all to hear and spreading Christmas cheer. And now I have to go type up a few posts to backdate so – have fun on the old post scavenger hunt!
And then head on over to the Terra Talking FB page and tell me what your family does on Black Friday/the day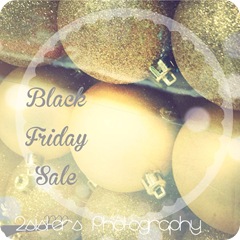 after Thanksgiving/Nov 29 if you don't live in the USA. Because it will be fun and stuff. Plus i like hearing from you!
hope you all had a beautiful wonderful holiday with your family and friends, celebrating and giving thanks however your family does!
Thanks for checking in here on our crazy family!
peace out party people.
terra.