Say that five times fast.
This is the name of Kaylen's new "baby". If you have ever had the pleasure to step into our humble abode, you have likely been mauled by the thousand and one baby dolls that take up residence in every square inch of this house. And dear Kaylen, God bless her, she has named every single one.
She doesn't forget their names. And each doll is always specifically THAT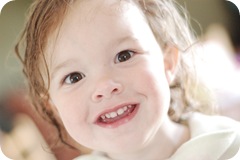 baby. She has Baby Fuffin, Baby Lee-lie, Chocolate Baby, Baby Lu-lah, and about a hundred others. But those are her main babies, most all of whom reside on a permanent rotation between car/bed/kitchen table. She carts them all around with her. So we are all used to having find a specific baby at nap time or when it's time to go somewhere.
All of a sudden a few weeks ago though i started hearing her talk about "beenda-bonda-bonn". But sometimes it was "Beenda-Beenda-Bonn". (it's a subtle nuance in the naming world of Kaylen Hope). So I asked her yesterday where Beenda bonda bonn was.
Me: Kaylen, who is beenda bonda bonn?
Kaylen: ohh. she's one of my babies.
Me: where is she at?
Kaylen: Oh, probably downstairs in the basement.
Me: Can i see her when we get home?
Kaylen: Sure – I'll go find her.
(fast forward about an hour, we are now home, instead of in the car where above conversation took place).
Kaylen: (opens her mouth and pulls an invisible pinch of something out of her mouth) – here mommy, i got beenda bonda bonn for you.
Me: (jaw dropped open on the table)……ummmmmm……..she lives in your mouth? (hearing lines from "The Shining" – "danny doesn't like milk mrs. torrance")
Kaylen: that's just where she sometimes goes.
Me: Ok….i am officially freaked out by beenda bonda bonn.
I have NO idea where this came from – but it is cracking me up to hear her talk about her. She took BBB to dance class this morning, and then freaked out at lunchtime that we had left her at the studio. ?????
So there you have it. The newest member of our family.
Beenda Bonda Bonn. (aka Beenda Beenda Bonn).
Funny stuff, kaylen hope. i fuff you. and so does beenda beenda bonn.