So give me love.
seriously – i just need to check the formatting of a few new crazy things I am doing to the blog – so this is a place for those who really love me to help me test it out.
i promise we will return to your regularly scheduled program soon.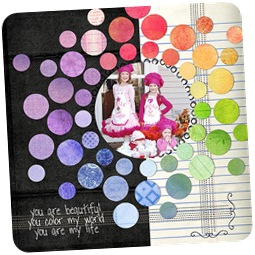 If you can see the little facebook "like" button – see if it will let you click on it if you have read this. If I get enough "likes" – i may try to do a real live vlog. where you get to see and hear the craziness in action.
Mostly I just need the ego boost from having a ton of comments.
(i'm only kidding. kind of…)
(the beautiful scrap page is courtesy of my beautifully wonderfully amazingly talented friend Kristen. Someday when i am an excellent blogger, i will link you directly to how to purchase this page to stick your own picture behind and pretend like you are a great crafty scrapper also.)
Also as another point of housekeeping (well, the kind you do on a blog) – I have three ad spots available starting April 1. If you would like to advertise your product/home biz/etsy shop on terra talking, email me :  terra@2sisphotos.com  – the three spots will be free for the first month – I just need your ad image and a link!
ok that is enough with the craziness for now.
terra