Yes.
Yes I am just coming up with mindless drivel for the sole purpose of making all the little numbers in October light up with a post for that day.
YOU are an astute observer if you caught on to that! Someday I'll have a prize to give you when you figure things out like this. For now you just get my congratulations!!!
SO CONGRATULATIONS!!!!
Trying to think of how last Tuesday was…
oh it was the day we drove up to Milwaukee! It was a fun day. I was so looking forward to getting Kendall her new stroller. Met my mom for lunch when we exchanged Kaylen, and she bought her a new dolly and stroller set. I tell you, i have never seen a child more addicted to baby doll strollers than Kaylen. At least she'll be easy to buy for for Christmas!
Last Tuesday, as we do whenever we have early morning appointments at Children's Milwaukee (CHW for short) – we stayed at my grandma/aunt's house. I love going there. It's like, the constant home I never had. My family has lived in that house for gosh, almost as long as i can remember. I remember their old house, but they are the vague cloudy memories of early childhood full of random snippets. It has been a constant for many years – so many easter egg hunts, thanksgiving meals, birthday parties and random Sunday afternoon family gatherings held in those walls. And i love going back – not just because of the oh-so-warm and amazing welcome we receive each time, but just because it represents the strength of  the constant, the unchanging.
It also helps that my grandma, God bless her, still makes me  my favorite comfort foods. Oatmeal for breakfast and creamy tomato soup with grilled cheese sandwiches for lunch. You know how sometimes, when you're the mom, and you're the one who is always taking care of everyone else, making the lunches, doing the laundry,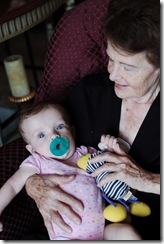 cleaning up the same messes 83 times a day – and sometimes you just want to crawl into bed and have someone ELSE take care of YOU?  – that's my grandma. Between her, my aunt and other wonderful cousins, i barely have to lift a finger. And it's so amazing to have that kind of support at the end of long days in doctor's offices, often on the outer edges of some hard to process info.
So I guess this post is dedicated to them. We could not have made it this far in the journey without your help, support and prayers, dear family. Thank you – words are not sufficient to express our love and gratitude, but thank you.
And while i wish it was for different circumstances – we love being able to see you more often now. And we cherish each and every trip up there.
So we'll see you in a few more weeks!
terra