Five.
Five fingers on her little starfish hand.
Five years.
Five.
Do you know how amazing this is?
I have tried to put it into words myself –and feel that I fall so short.
I've watched friends have to bury their children well before they reach 5 years of age. I've had to watch my baby almost lose her chance to see this birthday.
I do not take this birthday lightly by any means.
I rejoice in this birthday – I celebrate it with respect and awe and thanks. Thanks to God for the gift of her life, thanks to our family and friends who support us every day on this journey of life, thanks to the doctors and nurses and other medical professionals who help keep kendall running every day. This day would not be possible without any of you.
On this, the last day you are four, I wanted to tell you this:
My dear baby kendall quinn –
from the moment you were born, you have fought with all your might to survive. to LIVE.
and live you have. you live each day to the fullest. You are excited about every new thing, every new challenge, every opportunity that comes your way. You show me what it is to see this life for all the beauty it really holds.you have taught me to not sweat the small stuff, and what it's like to sweat the really really big stuff. Your sisters taught me how to be a mommy – you've taught me how to be a momma bear. Fierce, loyal, unwielding.
You have taught me so much in your five years here, it's as if i didn't really know what it was to live before i met you.
and i'm just so very proud of you my baby girl. I cannot tell you that enough. I am proud of how you endure all that you must every day with a smile on your face, and i'm proud of how you love unconditionally, and i'm proud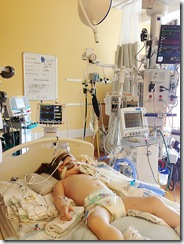 of how you have taught so many people to keep on keepin' on. I'm SO proud of you for putting up the fight you do, when the darkness of those infections threatened to overwhelm you, you looked them in the eye and said "not today". How very brave you are! You really are a warrior princess, kendall quinn. Your name means that you will be a strong leader in the valley. When we chose that name for you, I had no idea just how true it would be. You have been in the valley of the shadow of death more times than any child should – and you have come out stronger on the other side. you have taught me how to handle life in the valley, and life on the mountaintops.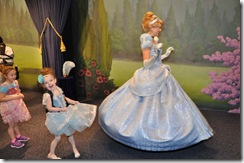 I have no idea what this year ahead holds for you.
My hope is that it holds nothing but health, happiness and so many good things. Your one true wish – to meet and swim with Ariel – will be granted. i hope it is the time of your life. I hope you chase the wind and touch the sky. I hope you become even stronger and even more amazing in this year ahead. Most of all – I hope you know how very much you are loved, and how very very proud I am to be your momma.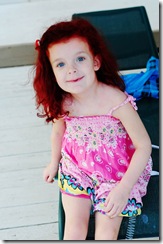 you did it baby girl. you became a whole hand-full.
you're my hero, for always.
keep on keepin on~
love, mommy.