Ingredients:
1200 keyed up students on the first day of school
5 minutes before school is supposed to get out
3 huge thunderstorms about to converge
1 tornado touching down in front of the school
800 crazed soccer moms in their minivans rushing to the school to pick up their children
Mix all that together, bake in a 95 degree oven at 115% humidity for half an hour – and there you have it.
a nice batch of CHAOS.
I will say – i was PLEASANTLY surprised by the efficiency of our school's admin and staff. It had to be crazy with all the parents rushing into the school to get their kids, yanking them off buses, the poor kindergartners scared crapless with their butts in the air, heads between their arms, heads down in the hallways, all the storm sirens going off, the police cars blocking the exits, blah blah blah. Thank God Ben had the good sense to take the whole day off to deal with me being the emotional wreck that I already was – I would have been beating down the doors to get to my baby if he hadn't been there to keep me calm.
The final bus left the school at 4:35 I guess, an hour after school got out. Total craziness.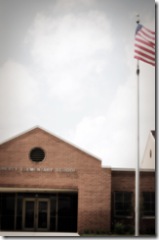 Crazier than that – i actually watched the "tornado" touch down. It was a dust devil. I have seen worse while driving across E. Washington to Moses Hole for work. It was cool to watch – but it was not worth all the craziness it caused. I will say that it going totally dark and having lightning hit about ten feet away from our car made for a cool summer storm. It continued all nite. and we're supposedly in for more today. I love crazy storms, when I am home safe with my family. since we had no TV last nite we had a fun family nite on the front porch and then just playing games inside. Kinda nice. We rarely take the time for that sort of thing and I am glad we did it.
Today we went to the chiro office for kaylen where she got a great adjustment and hopefully it lasts her through the weekend. Had a WICKED episode of the reflux last nite – to the point where it scared me to death – she was just like ejecting every bit of fluid from her whole body out of any available hole in her head – i swear to you it was coming out her EYES…and it soaked EVERYTHING in about a three foot radius. Gross. So – praying that that resolves itself soon.
So….I have been hearing from people that they VISIT this blog – but YOU NEVER LEAVE COMMENTS!!! Thank God my friend Melanie loves me. She makes me smile with her faithful comments. don't make me stalk you through my backend site counter. I am a wicked webmaster you know – i got SKILLZ. I can see who you are and where you log on from.Just play nice and leave a comment or something. Tell me i suck at writing, tell me my pictures are gay, i don't care. Faith, you're excused since you just recently joined the 20th century, i do'nt want you to blow a gasket trying to figure out too much all at once…but the rest of you have no excuse.
Ok rant over.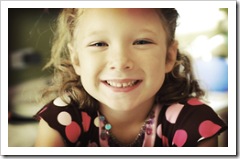 blah blah blah…
I feel like i have so much i want to talk about and just not enough time or strength left in my fingers. Plus I think I have real work to do.
I'll be back later to bore you al with more mundane details about my life.
mwah.
me