finally catching a little break around here. Kaylen has actually taken REAL NAPS the last two days. i am starting to feel kind of normal again. I must do something about this little weight issue of mine. I can no longer use the pregnancy excuse. although. i can use the crappy breastfeeding excuse. I am hopeful though that since i have recently ceased to become the local 7-11 for my baby, that maybe my body will stop stockpiling the calories and let some of the weight go. (have i mentioned that I can rationalize or explain away almost anything?)
So – that's my biggest news. I need to be better about blogging daily. There really is so much random crap that floats through my mind on a daily basis -i would love to have a place to let it all out, capture it, leave it for posterity. But alas – I get easily sidetracked. what else is new?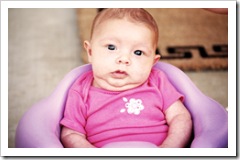 some pictures. I have to get more recent ones. These are about a week and a half old I think.
Kaylen sitting in her bumbo one warm Sunday evening. I love this little onesie on her – not sure if its the color or what…It matches pretty nicely with her bumbo though, no?
A nice one of the girls – all dolled up for Sunday morning. Amazing to me that I have THREE baby girls now. all so totally different, yet they all came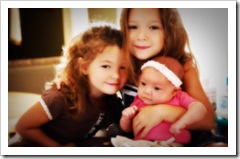 from me. I need to stop and recognize the amazingness of them more often. some days just go by in such a fast whirlwind and the name of the game is just SURVIVAL. (oh – side note – Survivor China starts in TWO DAYS!!! WOOT!)
Umm lets see what other cute shots have I gotten recently…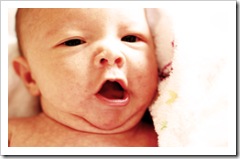 I have no idea if she was just squealing in joy here or yawning or starting to get fussy – but I loved the way the light turned out on this one. This towel she is leaning on is a beautiful gift from a beautiful friend of mine, Laura. She stitched Kaylen's name into the hood of this towel – it will be a treasured gift for many years to come. I wish I could figure out how to lighten her eyes in this pic – they just turn devilish when i try to convert to b/w. Note to self: research eye lighten actions for PS in all my spare time…
the waning days of summer, and playing outside on the sidewalk…We're supposed to tell Karissa "toes out!" when we see her sitting like this. Its supposedly a holdover from her back issues with the spina bifida when she was a baby – and is horrible for their knees, stomach, and of course back. But you know what? its just so uniquely her. So little girly of her to sit like this. i don't want to make that go away. I want to always remember her like this – plopped on the sidewalk, playing with chalk and her kitties, making up songs – just enjoying being a kid in summertime.
And that pretty much sums up today's post. More random thoughts to come soon!