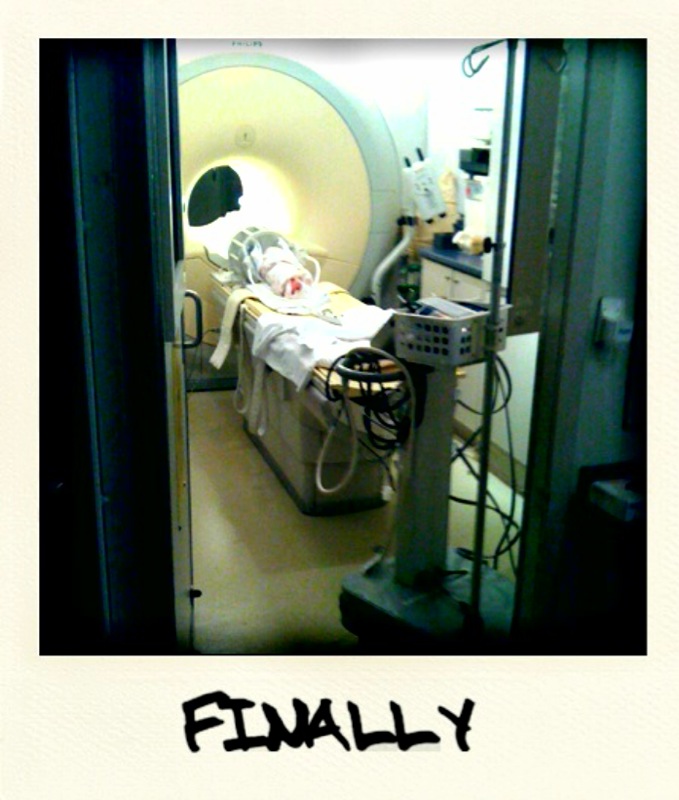 After waiting all day – we finally made it to the MRI at 3:30. She has endured 12 hours, almost 13 by the time she gets her tube hooked back up, of not eating, 4 breathing treatments, 2 physical exams by residents (learning doctors), a 1/2 hour of physical therapy, exam by her main doctor, one exploded IV/vein, getting an IV put back in, two gastroenterology consults with the head GI doc and his assistant, an exam/consult by the Infectious Disease doc (because she has a UTI and sepsis now), a renal ultrasound, and finally her l MRI. She has yet to endure one more trauma – mommy learning to drop her NG tube so I can feed her for the next 3-4 weeks. i am hoping that i can learn to do this quickly before her sedation meds wear off. We await results from the kidney ultrasound and MRI – both of which MAY still come back today.
But for now she is conked out. So rest well little baby. You've endured more today than most of us have to in YEARS of doctor's visits. Your name means "strong leader in the valley" – if this isn't a valley I do'nt know what is. But you will rise above it. You are strong, so very strong. So live up to your name baby of mine.
But first – get some sleep. you certainly deserve it.