Happy September 1st!
i am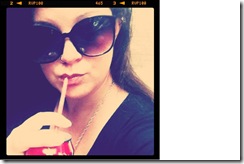 still in shock and awe that it's September already. where did this summer go? Although, when it's 98 degrees and eleventyhundred percent humidity outside – I'm pretty sure summer is still HERE!  But it's a new month, and with the newness of the month, comes the anticipated newness of the season, and that in itself can be very exciting and motivating. i'm still waiting for both of those things to hit me, but i've heard that for lots of people it happens.
i was talking with a friend about life the other day. How the girls were doing, how ben's knee is and how he is recovering from surgery, how life is going. and then the conversation turned to me. And how i'm doing. The conversation turned towards things of an emotional nature – and how i'm coping with life, how i'm emotionally handling or dealing with life as we know it. And essentially – i'm not. I'm surviving most days, and I go through a lot of motions and for the most part I have successfully kept everyone alive, clothed, fed and where they need to be at any given time. But it still leaves a lot of room for "baggage". For unprocessed thoughts – thoughts that maybe I don't want to process, or don't know how to. So she said when faced with a situation such as "depression" or "PTSD" (post tramautic stress disorder) – you have basically three options to combat it: meds, counseling, and movement. I'm not at a point where I think meds are the right answer for me, and we already meet on a weekly basis with a family counselor, she suggested i try "movement". Just get out and move. Or go downstairs and move. Dance on the Wii (i ROCK "cotton eyed joe" on Just Dance. consider yourselves warned.) Walk on the treadmill. Walk in the neighborhood. Just do SOMETHING for 20 minutes. Be consistent and be active and just do it. so i started slowly last week – doing a little bit here, little bit there. But then the challenge went even farther – do it every day in the month of September. Just 20 minutes a day. I can do this, right? I mean, any of us can do this!
So that's the challenge.
i'm excited to try it – to learn to push myself to carve that time out for me, to move when i would rather vegetate, to stick to something and be consistent with it.
along with that – I'm also pushing myself to blog every day in September. It may not always be the most scintillating post, or moving, or even anything you want to read. But that little calendar will have those numbers lit up, dang it. i have a feeling this is about more than just getting some exercise in, and about more than just slapping up some words on the screen. I think its about a bigger picture for ME. for returning to the me that I know i CAN be. but better. I'll never be the me that i was before Kendall was born – that person who knew bad things happened to other people but not to me. not to my family. the person who used to get freaked out over ear infections and who could actually manage to make it to the grocery store without it being a monumental feat of overcoming fatigue to walk through the whole store AND think about what to buy. I have seen things and learned things and pinned my baby down for things that i would never in a hundred years wish on my worst enemy. I am a different person. In some ways. In a lot of ways, i'm still the same person i have always been – just with a different perspective. A new pair of glasses if you will.
So that's what I'm doing this September. Wanna join me? There's nothing special to it. Maybe i'll create a little group for those of us who want to do either the movement challenge or the blogging challenge or both. I think the prize will be whatever we learn about ourselves on this journey.
And even if no one else is doing it with me, i'm still in. Trust me when I say that I could probably write for hours on this topic. But its stuff that still isn't ready to bubble up to the surface I don't think. and maybe some of it is better left unsaid anyways.  Sometimes life is just about learning to pull yourself up by the bootstraps and keep moving forward. so that's what we do.
now i've gotta go help with geography homework, math facts and try to figure out some semblance of a meal that will keep 3.5 people happy (kendall doesn't eat, kaylen is on a strict hot dog/chicken nugget only diet that is self-imposed, and karissa is always a toss up, hence counting for half a person.) Stay tuned – cause i do have some (SOME) awesome stuff coming up in September to ramble on talk about. And maybe more hella awesome drawings. I know how much you all loved my artwork of Ben's surgery – it helped you feel like you were RIGHT THERE with us, right??? 😉
Email me by clicking here if you are thinking of doing one or both of the challenges with me. or if you just want to email me. Cause i luuuvvvv email. I also luvvvv comments. I can see how many of you are reading every day. i can usually see WHO is reading (don't worry, i'm not all big brother on you. im just super good at interpreting IP addresses! ;)  SO COMMENT ALREADYYY!!!!  Don't make me get stabby up in here. I already did that to my finger this week. (stabbed it i mean. with a knife. not on purpose. maybe i shouldn't talk about this now…)
Ok now i'm done rambling for today.
have an awesome thursday! It's almost a four day weekend!!! holla!!!
hugs –n-kisses,
terrarist.